Welcome to Paradise
No front page content has been created yet.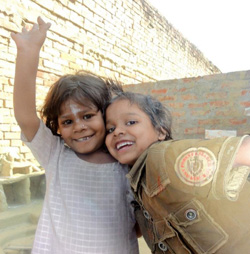 About Guria
Pioneered in the year 1993 by Ajeet Singh, Guria, a 36 member NGO in India, works towards fighting the sexual exploitation of women & children, especially forced prostitution & sex trafficking. The blueprint of the foundation was laid out way back in 1988 when Mr. Singh adopted three children of a woman from a red light area. The milestone is astonishing as Mr. Singh was only 17 years of age. Based in Varanasi, Uttar Pradesh, Guria tackles the issue of human trafficking with a uniquely multi-dimensional approach. We respond to immediate suffering as well as investigate the root causes of prostitution, poverty and inequality. We mainly focus on 12 districts of Uttar Pradesh state which are the most vulnerable within the state as source, transit, and destination areas for human trafficking. But we keep our minds open to the entire state including the Indo-Nepal borders, 8 state borders and Intra-state trafficking.
We believe in a multi-faceted approach to fighting this deeply entrenched problem. We are involved in legal aid and intervention, victim rescue and rehabilitation, NFE (non-formal education) centers in the red light areas of Varanasi and Mau, a boat school on the Ganges River, police sensitization programmes, rural womens' empowerment, activism and research. We strongly believe that through grassroots and prevention work, it is possible to end this modern form of slavery.
For more information about Guria,
please visit our
website